Denver's New Detention Center Needs a Name
and We've Got a Suggestion*
* And It's Not Lou Blonger
It's Official
Presenting the VAN CISE-SIMONET DETENTION CENTER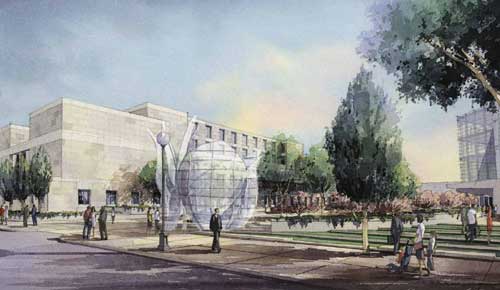 And We Helped!
Van Cise Project Headlines
04/14/2009 - Philip Van Cise's crime busting to be remembered at Bill Ritter-led dedication of new justice center named for him
03/07/2009 - City Council to deliberate resolution
02/18/2009 - Deal made on names for Justice Center
02/18/2009 - Naming Committee moves to name Justice Center "Van Cise-Simonett Detention Building!"
02/13/2009 - Seeing Names, Justice Served
02/13/2009 - A Van Cise reprise in the Justice Center debate
02/04/2009 - No justice for Van Cise?
01/19/2009 - Justice Center campaign goes straight to video
01/11/2009 - Justice center names up for grabs
12/10/2008 - The petition has been submitted
12/03/2008 - Van Cise for Justice Video
11/24/2008 - Name the new Justice Center for somebody just enough: Philip Van Cise
11/24/2008 - Videos to promote the campaign are in the works
11/23/2008 - A local petition is now in circulation
11/22/2008 - The mayor's office is soliciting petitions
03/20/2008 - Alan Prendergast on CPR's Colorado Matters - MP3
02/12/2008 - KHOW's Peter Boyles interviews Alan Prendergast
02/07/2008 - Phil Van Cise: Scourge of Denver's Underworld
08/30/2007 - Final Design of Justice Center Revealed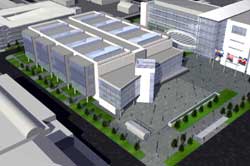 There's a new $250 million dollar Criminal Justice Center going up in downtown Denver, part of a massive urban renewal plan called the Denver Infill that stretches from the Capitol to Cherry Creek along Colfax Avenue. While the courthouse component of the complex will gain the oohs and ahs of the architectural community, it's the adjacent building, the Detention Center, that has attracted our attention here at BlongerBros.com.
In our four years on the job we've learned a little bit about Denver jailhouse history. So when it came to our attention through Judge Larry Bohning that the new detention center was in need of a name, of course we agreed there was only person who should be so honored.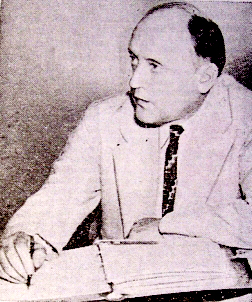 We're talking about Philip Van Cise.
Yes, it's been 82 years since the Colonel held elective office, and his tenure as district attorney was brief, just four years. But it's our belief, and the belief of others who have studied Denver's early days as a haven for con men, that Philip S. Van Cise richly deserves this honor.
Consider that:
While he was district attorney from 1921 to 1925, the con men received such widespread support from the police force and the mayor that Van Cise was forced to conduct his investigation in secret, with funds he solicited from a handful of wealthy Denver citizens.


When the dragnet tightened around the Blonger gang, he had to employ a special force of Colorado Rangers, with no ties to local law enforcement, to round up the suspects.


When the Rangers swept the con men off the street, they were escorted to a place no self-respecting con men could bear to find himself — the Sunday school classroom of the First Universalist Church.


Worried that police officers at the Denver jail would tip off the gang as soon as the first suspect was behind bars, Philip Van Cise had set up his own replacement detention center in the church basement. While waiting to be booked, the prisoners sat on little red chairs.
The arrest, prosecution, and incarceration of the Blonger gang made Van Cise a hero among many Denver citizens, but not the police and politicians. Although it took many more years to bring clean government to Denver, Van Cise's successful effort to can the con men, despite the obstacles put in his way by office-holders, stands as a testimony to his fortitude, forged during his years as an Army intelligence officer during World War I.
He was also a shrewd and innovative lawman. Fighting the Underworld, which became a bible in criminology circles when it was published in 1936, describes many social engineering strategies he used to misdirect the leaders of the gang, especially Lou Blonger and his right-hand man, Adolph Duff. Van Cise wasn't afraid of technology either, planting a dictaphone in Blonger's office to gather inside information — back when such eavesdropping was legal.
Van Cise was also the first Denver D.A. to stand up to the Ku Klux Klan at a time when it was gaining in popularity, even at the highest levels of Colorado government.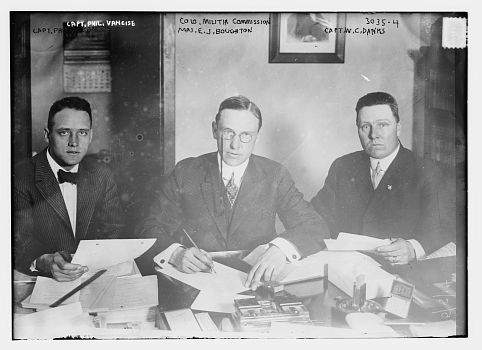 Capt Philip Vancise Colo Militia Commision Maj EJ Boughton Capt WC Danks - Vintage News Service Photos
These reasons alone are sufficient, we believe, to persuade the City of Denver to name its new detention center after Col. Philip S. Van Cise.
But we'll add a last coincidence. After Van Cise returned to private practice in 1925, he worked for many years as an attorney for the Rocky Mountain News. The new detention center, currently under construction, stands on the former site of the News.
As far as we are aware, no public edifice has ever been named for the Philip Van Cise. So, readers of this site, if you are convinced that the time is right to honor the Colonel, and that the Philip S. Van Cise Detention Center should become a reality, we urge you to sign our online petition. Our goal is to collect 1,000 names and addresses for presentation to the authorities making the naming decision.