College of Crime

New York Times, March 31, 1922
Denver Crime College To Train 'Highbrow' Crooks
ORLANDO, Fla., March 30.—Confidence men are operating a college in Denver, Col., and issue diplomas to students who become proficient in the art, according to State's Attorney Jones of this city, who has just returned from Ft. Lauderdale, where he assisted in the prosecution of a dozen wiretappers.
One of the defendants at Ft. Lauderdale, 73 years of age, had been working all his life as a "second story" man, according to Mr. Jones, but two years ago attended the college in Denver, received a diploma as a confidence man, and the State's Attorney said, "is doing splendidly now in the highbrow phase of his calling."
The principal feature of the college curriculum was said to be a course in human nature.
DENVER, Col., March 30.—If any college for the training of confidence men exists in Denver, as reported in a dispatch from Orlando, Fla., it has never come to the attention of the Police Department or the District Attorney's office, officials said today.
On August 24 of that year, District Attorney Van Cise sprung his trap, arresting over thirty of the gang. And yes, there was a college of crime, described for the jury during the trial of the bunko men in 1923.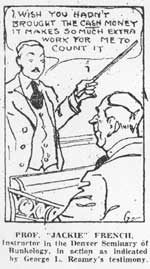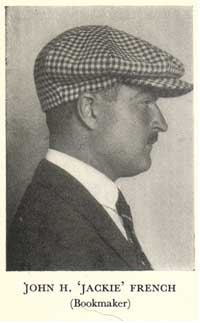 That's "Dapper" Jackie French above, "Instructor in the Denver Seminary of Bunkology."