In 1858, Sam Blonger left his hometown of Shullsburg, Wisconsin behind and set off to seek his fortune in the West.
One by one his brothers followed, until there were five Blongers spread throughout the mountains, panning for placer gold and digging for silver. And there was a fortune to be made from their fellow miners as well, so Sam and his brother Lou turned their attention to the "entertainment business" — providing drinks, games, and sometimes affection to those lucky gents who had money to spend.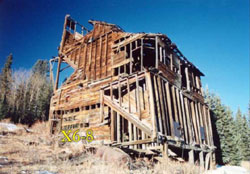 Lou and Sam covered all the mining boomtowns in the next few years, from Utah to Nevada, Colorado and New Mexico. It is said they ran a steamboat on the Great Salt Lake, and a "theater" in Dodge City before serving as lawmen and detectives in New Mexico and Colorado for a time. Finally settling down in Denver in 1888, the Blonger Bros. opened a rough-and-tumble cowboy watering hole down on Larimer Street, in the middle of the city's bustling vice district. Over the years they ran a series of saloons and gambling houses, finally moving up — to Stout and 17th — where their Elite Saloon earned the reputation as the flashiest drinking establishment in the city.
Sam and Lou Blonger were an odd pair. At six-foot-three and well over 200 pounds, Sam wasn't afraid of a fight, and he'd had his share. A foe's bullet had taken one of his eyes, so Sam always wore blue glasses to hide his disfigurement. Ten years younger, Lou Blonger stood barely five-foot-six, but what he lacked in height he made up in charm. Smiling Lou could sweet-talk anyone and had friends in every town and on every street corner.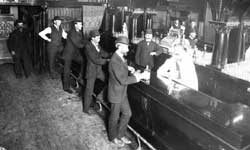 Lou wasn't afraid to use his connections. To shield his somewhat-less-than-legal business from government interference, he put some of the local constabulary on his payroll and so operated with immunity from prosecution for many years. Gradually his ability to "fix" any situation developed into a full-blown protection racket. For a large percentage of the take, Lou Blonger could keep anyone out of trouble, especially the con men who flocked to Denver in the summertime to fleece the wealthy tourists. For many years, Lou sat comfortably in his office on Larimer Street, working the police chief and the mayor on a daily basis, while his minions scammed vacationers out of hundreds of thousands of dollars a year.
Eventually the law caught up to Lou and his scheme. In 1922, District Attorney Philip Van Cise bypassed the Denver police and used his own ragtag force to arrest 33 con men, including Blonger. In one of the most publicized trials to that time, the "Bunco King" and his cohorts were convicted and sentenced to prison at Cañon City. Lou Blonger died there just six months after he arrived.
In their day and in their travels, Lou and Sam Blonger, and their brothers, Simon, Joe, and Marvin, rubbed elbows with many, if not most, of the famous names of Western lore — Wyatt Earp, Doc Holliday, Buffalo Bill and Wild Bill, William Pinkerton, Bat Masterson, Sitting Bull, Geronimo and Cochise. But despite their colorful saga, fate and luck have kept the Blongers out of the history books — until now.
Look out, Denver.
The Blonger Bros. are back for their cut!