Over the next decade, Sam & Lou followed the strikes, setting up shop in one boomtown after another, from Utah to Nevada, back to Utah, then on to Colorado.

Sam and Lou in Red Oak, Iowa (1870)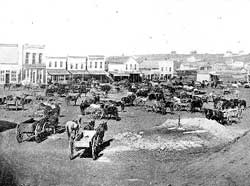 In 1870, according to the U.S. Census, Sam and Lou Blonger had set up shop in Red Oak, Iowa, about 40 miles from Omaha. Near the top of the page is George Sheldon, the hotel keeper. Following soon thereafter are Sam Blonger, 32, who was listed as a clerk in the hotel; Ella, his wife; and brother Lou, 21, who was "keeping a billiard hall." We also find William Livingston, Ella's father. Further down the page we find Mable Blonger, 2½, born in Illinois. For now we must assume that Mable was Sam and Ella's daughter; there is no other evidence of her existence. If she was born in Illinois two months before, Ella, at the very least, was a newcomer to Iowa, though Sam and Lou might have come earlier.

Sam and Lou in Utah (1870-75, 1878-79)
The Blonger Bros. arrived in Utah sometime after June 1870, when they lived in Red Oak, but probably before the end of 1870, if Lou's pension file is to be believed. The trip could be made by rail by this time, so the journey would not have been arduous. During these years the boys often found themselves literally at the end of the line — those places newly-accessible by rail — but rarely venturing deeper into the frontier than that. Perhaps Lou's leg made travel by horseback or stage difficult, or perhaps that's just where the easy money was. The latter, probably. Over the next five years, Sam and Lou lived in Salt Lake City and also in the mining towns of Stockton and Dry Canyon, southwest of town.
Lou Blonger's obituaries claim that he and Sam built and operated the first steamboat on the Great Salt Lake in 1871. Published accounts of the steamboat, such as that included in Corinne: The Gentile Capital of Utah (Brigham D. Madsen, 1980) do not mention the Blongers. Since no Blongers are known to have any shipbuilding expertise, the story seems unlikely. On the other hand, it's not the kind of story you'd expect someone to make up. According to one obituary, "dancing was among the entertainment features of the boat." Perhaps Sam and Lou ran the attractions on the boat, not the building of it.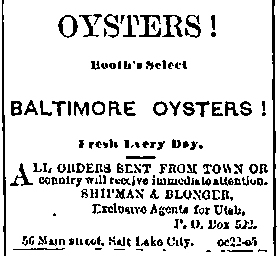 Though shipbuilding remains questionable, Sam and Lou were definitely in Salt Lake County during the period. Sam's son Frank was born there, and in 1873, while living in Dry Canyon, "Blonger & Bro." sued a man for failure to pay $29.75 for drinks, cigars, and merchandise — clear evidence that the boys were running a saloon. Supporting this claim further, Van Cise (p. 137) describes a conversation in which Lou describes a gambling house he ran in Salt Lake City in 1871.
Articles from the Salt Lake Tibune tell us about two more businesses, both under the name Shipman & Blonger — canned oysters in 1873, and the Omaha Beer Saloon in '74.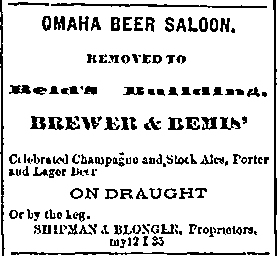 [We] call attention to the card of
[Ship]man and Blonger, who have remo-
[dele]d Reid's Building. This firm are
[the ]Sole Agents for the Brewer and
[Bemi]s' celebrated Ales, Porter, and
[Lage]r, of which, every man who likes
[his] [b]eer, speaks in words of commen-
[datio]n.
No city directory of Salt Lake City was published from 1870 to 1873. The 1874 directory has not yet been investigated.
After a few year's sojourn in Nevada, Lou's pension file indicates the brothers returned to Silver Reef, a mining camp in extreme southwestern Utah, in 1878, and then went back up to Salt Lake City until 1879.
Images, etc.:

Sam and Lou in the Black Hills of South Dakota (early 1870s)
Lou Blonger's obituaries state that after he and Sam left Utah they headed for the Black Hills. The obvious conclusion would be that they went to Deadwood and met up with their brother, Joe. No evidence has yet been found to indicate where Sam and Lou lived in South Dakota, or if they went there at all. Lou's pension file fails to mention Deadwood.
| | |
| --- | --- |
| Online Clues: | Images, etc.: |
| Online Resources: | Printed Resources: |

Sam and Lou in Nevada (1876)
Lou Blonger's obituaries state that after he and Sam left the Black Hills they headed to Nevada, specifically to Reno and Comstock (Virginia City). Sam's obituary says he spent "considerable time in Virginia City." Lou's pension file, written in 1887 and therefore the most reliable account, places the brothers in Virginia City by the fall of 1875, thence to Cornucopia in 1876 and Tuscarora in 1877.
Though we have no solid evidence yet to place the Blongers in Virginia City, we are certain that the brothers spent considerable time in Cornucopia. They were present when the Nevada state census was taken in 1875, and stayed at least through April of 1876. Cornucopia's star set as fast as it rose; it's now a ghost town in the wilderness about 20 miles north of Tuscarora.
A weekly column called "Letters from Cornucopia," published in Daily Silver State out of Winnemucca, show Sam and Lou running a saloon called The Palace, complaining about the lack of action while waiting out the dreary winter. One clipping shows that Sam held a stake in the Texas Mine, an "exceedingly rich" claim between Cornucopia and Tuscarora. The biggest issue facing the town during this long period was the possibility of a bridge over the nearby Owyhee River that would open commerce to the west. After a local committee headed by Judge J. O. Ivory came to inspect the site, the Silver State reported that "when the honorable committee left us the Judge had two babies in his possession, which he had donated to him by Sam and Lew Blonger of The Palace." What these "babies" could have been is still a mystery.
An online source confirms that Lou (and presumably Sam) were in nearby Tuscarora, running a different saloon called The Palace, by the fall of 1877.
| | |
| --- | --- |
| Online Clues: | Images, etc.: |
| Online Resources: | Printed Resources: |

Sam and Lou in Dodge City (1870s)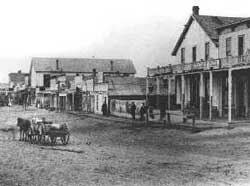 Lou Blonger's obituaries place Sam and Lou in Dodge City at some point early in their career, where they ran a theater and gave tours. The general time period is the 1870s. All three obituaries state that the brothers made their appearance in Dodge after working at early jobs in Chicago but before leaving for either Salt Lake City or the mining camps of the Black Hills and Nevada.
It may have been Forbes Parkhill, intrepid reporter for the Denver Post, who helped compose Lou's obituary; in any case in his memoir, Wildest of the West, Parkhill wrote that "pals of Bat [Masterson] at Dodge City included Lou Blonger...and his brother Sam." (p. 222) Robert DeArment repeated this assertion in Bat Masterson and added a date, stating that Sam and Lou were among a partial list of the "knights of the green cloth" who converged on Dodge City in the summer of 1878 (p. 110). That would put the Blonger brothers in Kansas after their travels to Utah and Nevada, and certainly makes more sense than the early 1870s time frame. Dodge City did not exist as a town until 1871, but it soon had several saloons.
Lou Blonger's pension file, however, does not mention Dodge City at all, a conspicuous omission from his rather detailed account. In the absence of primary evidence, which we will pursue, the key to resolving the contradiction may require tracking the detective, in this case, William Pinkerton.
| | |
| --- | --- |
| Online Clues: | Images, etc.: |
| Online Resources: | Printed Resources: |

Lou's Friendship with William Pinkerton
According to one obituary, Lou Blonger's friendship with William Pinkerton supposedly started when the two met in Dodge City during its wildest days. The other obit puts their initial meeting in Chicago. That's possible, since Pinkerton's father, Allan, was building his business in Kane County, about thirty miles west of Chicago, at approximately the same time. The Chicago connection cannot yet be discounted, but it seems more likely that the pair first met in Dodge City. The question is when.
In Fighting the Underworld, Van Cise (on p. 97) explained the curious coupling of the bunco king and the son of America's most famous detective, whom he does not name:
[Pinkerton's] company had long earned and enjoyed an enviable reputation as first-class detectives; but their business was not that of law-enforcing officers, but of private agents protecting the interests of their own clients. Consequently, they had to deal constantly with underworld characters and get information from them. Blonger and [Pinkerton] had been friends for years. They corresponded regularly, and met annually in Hot Springs, Arkansas, to talk over the criminal situation, [Pinkerton] to find out from Blonger and friends the names of those who had attacked his clients, such as wholesale houses, hotels, or contractors; and Blonger in turn to get from the detective whatever information the latter had gleaned about the activity of police departments or victims against Blonger and his gang in Denver and elsewhere. It was a quid pro quo of mutual profit to the great detective and the great crook.
If Pinkerton's time can be matched with the Bat Masterson account, it may solve the mystery of the Blongers' brief Dodge City stay.
Van Cise fails to mention (or perhaps he did not know), that Lou, in addition to his time as a lawman in Albuquerque, and as a member at that time of the Rocky Mountain Detective Association, had connections with the Denver city detectives, even in the 1890s when Sam and Lou were still solidifying their power base in Denver.
| | |
| --- | --- |
| Online Clues: | Images, etc.: |
| Online Resources: | Printed Resources: |

Sam and Lou in Leadville, Colorado (1879-81)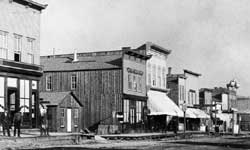 Lou Blonger's pension file suggests that he and Sam first came to Leadville in 1879. The earliest confirming evidence comes in March 1879, when Sam ran for mayor. It's hard to imagine that he showed up one day and ran for mayor the next. One therefore has to assume that Sam and Lou had to have been in Leadville for at least a couple of months prior to Sam's unsuccessful campaign, and that perhaps the date was really late 1878.
Sam was one of four candidates to succeed Leadville's first mayor, H. A. W. Tabor, who was well on his way to becoming a multi-millionaire and soon to be lieutenant governor. Sam finished in second place with 323 votes, far behind the eventual winner, W. H. James, who had 850.
Sam and Lou did not stay long in Leadville. Although they were both listed in the 1880 census there, Sam was also listed in Denver, having found a home there for his wife and son. Both Sam and Lou also appeared in the 1880 city directory of Denver. Lou's obituaries indicate that they were soon at work constructing the Denver & Rio Grande system. This would fit the timeline, as the D&RG reached Leadville from the south in July 1880. Perhaps at this point the brothers were ready to move on once again. In an odd twist, the D&RG was thwarted in its ultimate goal of reaching the Rio Grande by its rival, the Santa Fe. So, contrary to what the obituaries suggest, railroad work may not have taken Sam and Lou to Albuquerque and Texas, which is the next chapter of the story.
The first city directory of Leadville, available online, dates from 1882 and both Sam and Lou had disappeared by then (Simon and Marvin were listed, however). Lou's pension file agrees: the inseparable pair left town in 1881.
There is plenty of investigation left to do in Leadville, in newspapers and mining records, for all four Blonger Bros.
| | |
| --- | --- |
| Online Clues: | Images, etc.: |
| Online Resources: | Printed Resources: |

Simon as Assemblyman from Leadville (1882-83)
Simon Blonger left Shullsburg sometime after 1876 and appeared in Leadville by 1882. That year, at the age of 46, he was elected to the Colorado House of Representatives on the Democratic ticket. The circumstances of his nomination and election are somewhat curious.
What information we have of the process comes from the Leadville Daily Herald, which wore its Republicanism on its sleeve, if not its masthead. While the Herald ran biographies of the Republican candidates, it heaped scorn on many of the Democrats, but to our detriment had little to say about Simon Blonger.
In September, 1882, Simon was elected as a delegate from Leadville's fourth precinct to the county convention. When the group met in October to nominate candidates, Simon apparently had no intention of running. For the four Lake County seats in the Colorado House, a total of ten men were formally nominated before voting began. On the first ballot, one candidate, Samuel Newhouse, gained a majority and was declared to be the first nominee. Then, Judge G. G. White, the chairman of the convention, stepped forward and nominated Simon Blonger, who was confirmed by acclamation. The Herald gives no reason this odd turn of events. The voting then proceeded for a few more ballots until two additional candidates, A. F. Abbott and M. J. Costello, were chosen.
The convention then moved on to the next order of business, nominations for road overseer, when the proceedings were interrupted once again. What can we make of this sentence from the Herald? "At this time Mr. Simon Blonger was ushered up the aisle-way, and thanked the convention for the favor." Why was there a such a long interval between his nomination and his acceptance? Did he step out for a smoke? Was he shy? And why did he need to be "ushered up the aisle"?
One thing is certain: Simon Blonger was a popular candidate. Of the eight men on the ballot, he received the most votes, 3,654, in a remarkably tight race. The eighth candidate had 3,320 votes. Out of all the races in Lake County, only two men garnered more votes, and in both cases only a few more than Simon. He even outpolled the victorious Democratic gubernatorial candidate.
Simon's seat was contested soon after the election by A. M. Rucker, who finished fourth, some 241 votes behind. Costello, who finished second, also won a seat, which was contested by J. M. Wallace, who finished seventh. This oddity cannot yet be explained.
Simon was in Denver on January 3, 1883, when the new House was gaveled to order, but research in the Rocky Mountain News, a Democratic paper, sheds little light on his political career. Democrats were in a distinct minority in the Colorado legislature, but even so the News found little to write about Simon. On January 6, he was appointed to mines and mining subcommittee and introduced a bill that, surprisingly, had nothing to do with mines. Instead his measure offered to "regulate justice jurisdiction and methods of procedure." The News noted drolly that "this is a long one."
Through most of January, Simon received no other mention, except for his votes in the great battle to fill Colorado's vacant seat in the U.S. Senate. Finally, on January 31, the Rocky Mountain News reported that the committee on elections found that Rucker's charges, which the Leadville Daily Herald, a Republican paper, reported as general ballot-box stuffing, "had not been substantiated by the evidence presented to the committee."
The final day of the biennial session was February 11, 1883. Simon packed his grip, returned to Leadville, and apparently never ran for office again. He did not leave much of an impression. The next day the Rocky Mountain News ran a recap of the session in which several legislators were singled out for special commendation, but Simon was not one of them.
For the record, Leadville was the hotbed of Colorado politics in 1882, just six years after statehood (and one of the few Democratic bright spots). Both candidates for governor, E. L. Campbell, who lost, and James Benton Grant, who won, were magnates from Leadville. Grant, a native of Alabama, was the first Democrat to govern Colorado either as a territory or a state.
| | |
| --- | --- |
| Online Clues: | Images, etc.: |
| Online Resources: | Printed Resources: |