The Armstrong account claims that four of the Blonger Bros. (all but the oldest, Simon, and the youngest, Marvin) served in the Civil War. So far we have been able to confirm the service of Michael, Lou, and Joe, but it appears Sam sat out the war on the West Coast.

Michael's Civil War Service (1861-63)
Michael Belonger enlisted as a private on May 8, 1861, when he would have been a week shy of his 20th birthday. He was mustered into Company I of the 3rd Wisconsin Infantry, also known as the Shullsburg Light Guard, on June 29, trained on a hilltop overlooking the Belonger residence, and departed Shullsburg with the company on July 12. The Armstrong account gives a vivid description of the soldiers marching out of Shullsburg to Apple River, Illinois, as the fife and drum played "The Girl I Left Behind Me."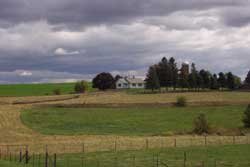 Company I took part in many of the Civil War's major battles. In March 1862, it was involved in the Battle of Winchester, and the Battle of Cedar Mountain in August, both in northern Virginia. Later the Shullsburg fighters moved across the Potomac River to Antietam, where on September 17, 1862, they took part in the deadliest of all Civil War struggles. Michael was one of the lucky ones. Of 335 men in Company I, over half (170) were wounded and 27 were killed.
Around this time Michael succumbed to a heart ailment that he had first developed in June, during a forced retreat from Winchester to Martinsburg while under the command of General Nathaniel P. Banks. Michael's account:
The command in which [I] was, was cut off from communication with its base of supplies, and for want of food & nourishment [I] was for several days nearly starved, by reason of which [I] incurred disease of heart and rheumatic affection of the entire left side.
On September 20, just after the Battle of Antietam, Michael was so sick that he was sent to Columbia College Hospital in Washington, D.C. There he spent several weeks recuperating before being shipped to Convalescent Camp in Alexandria, Virginia. On January 28, 1863, he received his disability certificate and was honorably discharged from the Army.
The documents in his pension file indicate that Michael's ailment prevented him from doing "a man's work" for the remainder of his life. He filed for increases in his pension at least a dozen times, particularly during the 1880s, and each application is filled with the details of his infliction: valvular disease of the heart, and later chronic diarrhea and/or constipation, which may or may not have been related. Despite his medical problems, Michael lived to be 83 years old and sired ten children, on whose existence the lives of yours truly necessarily depend.
Some company histories, compiled many years afterward, list Michael as "wounded," some even placing the wound at the Battle of Antietam. It's our judgment that this was a false assumption, based on the date of the battle and Michael's admission to the hospital. There is nothing in his pension file that even remotely indicates that he was ever wounded in battle.

Joe's Civil War Service (1862-65)
Joe and Sam's Civil War service vexed us for some time. An online index of Civil War Service Records produced a Samuel and a Joseph Belonger who enlisted in the 25th Michigan Infantry in 1863, but common sense told us that these were not our men; why in the world would they have been in Kalamazoo? And besides, Joe would have been only 14.
Google turned up an interesting possibility: a case file for a Joseph Belonger at the Sawtelle Veterans Home in Los Angeles. In it, the registration document revealed this was our Joe Belonger, and he had indeed served in Company H of the 25th Michigan. A printed summary of Michigan Civil War records states that Joe enlisted at Comstock (a township near Kalamazoo) on Aug. 22, 1862, 18 days short of his 15th birthday. He gave his age as 18. Joe made 8th corporal in November of 1864, and with hostilities over, was mustered out at Salisbury, N.C. on June 24, 1865.
Joe was shot during the siege of Atlanta, the ball penetrating his arm and lodging in his chest on the left side. He carried the bullet with him the rest of his life.
It's also worth noting that, though shot, Joe mustered out with the rest of his unit. Following is a partial rundown of the 25th Michigan Infantry in action.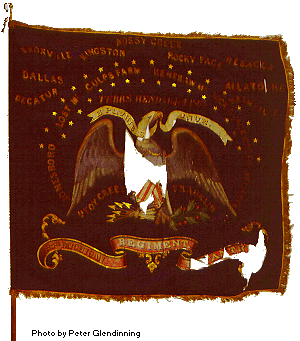 25th Regiment Infantry, organized at Kalamazoo, Mich., and mustered in September 22, 1862.
1862
Action at Bacon Creek, near Munfordsville, December 26, 1862.

1863
Repulse of Wheeler's attack on Kingston November 24.
Action at Mossy Creek, Talbot Station, December 29.

1864
Battle of Resaca May 14-15.
Lost Mountain June 15-17.
Muddy Creek June 17.
Noyes' Creek June 19.
Kolb's Farm June 22.
Assault on Kenesaw June 27.
Nickajack Creek July 2-5.
Battle of Atlanta July 22.
Siege of Atlanta July 22-August 25.
Utoy Creek August 5-7.
Flank movement on Jonesboro August 25-30.
Pursuit of Hood into Alabama October 4-26.
Battle of Franklin November 30.
Battle of Nashville December 15-16.
Pursuit of Hood to the Tennessee River December 17-28.

1865
Capture of Wilmington February 22.
Advance on Goldsboro March 6-21.
Occupation of Goldsboro March 21.
Advance on Raleigh April 10-14.
Occupation of Raleigh April 14.
Surrender of Johnston and his army.

Mustered out June 24, 1865.
Regiment lost during service 1 Officer and 34 Enlisted men killed and mortally wounded and 2 Officers and 141 Enlisted men by disease. Total 178.
| | |
| --- | --- |
| Online Clues: | Images, etc.: |
| Online Resources: | |

Lou's Civil War Service (1864)
Like his brother Joe, Lou Blonger enlisted when he was 14 years old, and like Mike he ended his service in the hospital. On May 10, 1864, when he was three days from his 15th birthday, Lou went down to Warren, Illinois, and enlisted as a musician for a 100-day hitch. Though the muster rolls show he gave his age as 18, he couldn't have looked it: he was still only five-foot-two.
The 142nd Illinois Infantry was mustered on June 18 at Camp Butler in Springfield, and then moved down the Mississippi River to Memphis, where it was assigned to guard the Memphis and Charleston Railroad. Apparently Company B met little resistance during its 100 days of service, as not a single casualty was reported.
In his pension file, Lou relates that he fell and injured his left leg while marching from Memphis to White Station, Tenn. He ended up in a hospital where he was tended by William Livingston, who after the war would become Sam Blonger's brother-in-law. Livingston testified that:
On the march from Memphis to White Station, Tennessee in June 1864 Louis Blonger was injured in left leg by a fall. After arriving at White Station I visited him and found him in his tent, confined to his bed and sick with varicose veins resulting from said fall. In the month of October 1864 I saw the said Blonger as an inmate of and sick in the Marine Hospital, Chicago Ill, suffering with a bad case of varicose veins of left leg.
The march to White Station occurred on or about June 26. Incredibly, Lou Blonger had served only about eight of his 100 days before disabling himself.
When Company B was mustered out on October 26 at Camp Fry on Chicago's north side, Lou was still in the camp's Marine Hospital. Although Lou's obituaries claim that he marched down Pennslyvania Avenue with the victorious Union army after Appomattox, in reality he was back in Shullsburg, living with his father.
It would be easy, in light of later events, to imagine that Lou somehow faked his injury to escape the long hikes. That just doesn't wash. Lou the 15-year-old fifer was not the Bunco King, but a kid out on his first big adventure. In any case it would have been impossible to arrange the corroborating medical evidence that accumulated through the years. Lou's pension file makes a convincing case that varicose veins plagued him for the rest of his life. Whether those varicose veins were bad enough to prevent him from doing manual labor is another question. Whether Lou ever required manual labor to support himself, even in his early years in the West, is the toughest question of all.

Sam's Land in Sutter County, California (1865)
On May 26, 1865, Private Lyman L. Woods, a 32-year-old Mormon patriarch who lived in Provo, Utah, obtained a military scrip warrant patent on 160 acres of Feather River bottom land about 20 miles north of Sacramento, specifically the SW ¼ of Section 22 of Township 12N, Range 4E. Woods was a veteran of the Utah Indian Disturbance of 1851-56 and so was eligible for the grant under the Bounty Land Act of 1855. The original document then shows that Woods assigned his right to the land to Samuel Blonger.
So many questions. This land is decidedly not a mining claim. Did Sam intend to farm, was he speculating, or did he swindle or cheat young Mr. Woods? Sam's obituary states that prior to the Civil War, he worked in California hauling goods over the Sierra Nevada. He may well have spent the entire war in this part of the country. He likely would have been quite familiar with the Sacramento area.
How did Sam know Lyman Woods? What was the deal that led Woods to surrender 160 acres of California real estate to Sam? What became of the land, and how much was it worth? Supposedly Sam returned to the East around this time; the sale of the land might have financed his trip back "via the Isthmus of Panama." There's no evidence Sam ever went back to California, so he probably disposed of his property quickly.
This certainly bears more investigation.