We've spilled a lot of ink over the years trying to determine the true identity of this woman known as Kitty Blonger. Was this prostitute, who informally took the Blonger name as a hooker in their employ during the early 1880s, also Sam's second wife Sadie Wilson from the early 1890s? Both women appear to have later been known as Mrs. Hank Domedion.
Killer Kate Blonger Apprehended at Last!
A new cache of digitized articles revealed a sad little wrinkle to the story, perhaps a fitting denouement.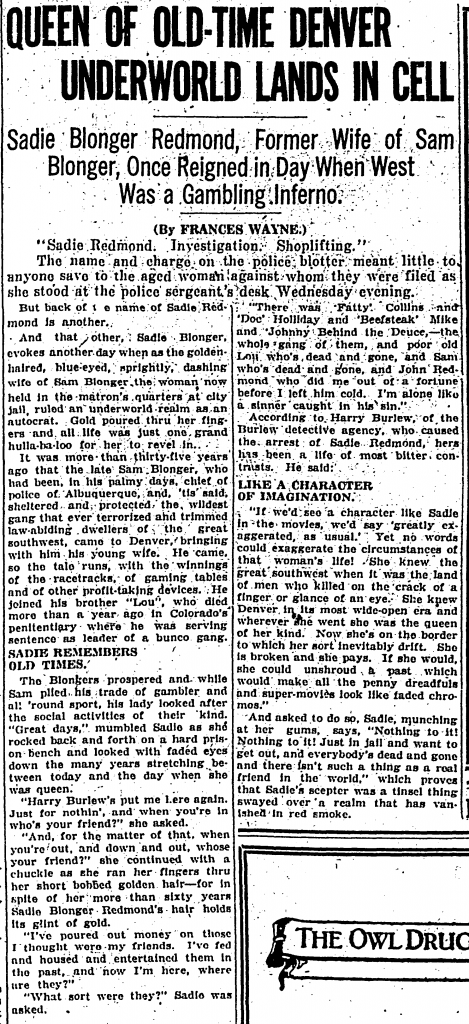 Interesting. To hear Sadie tell it, she was Sam's wife in the palmy days of Albuquerque, after which they made their way to Denver, where she ruled as Sam's queen. The truth is more complicated.
Sam married Ella Livingston in 1866. Ella followed Sam west, but she appears to have taken up residence in Denver early on, along with Sam's son Frank, as the Blonger Bros. began their decade-long tour of the boomtown trail. Sam and Ella remained wed until 1889, when Sam finally decided to settle in Denver. Ouch.
He married Sadie Wilson twenty days later.
Albuquerque was a debacle for the Blonger Bros., and afterwards Sam and Lou appear to have parted ways for several years, until they both converged on Denver around 1889. While Kitty/Sadie may indeed have been Sam's paramour back in 1882, seems also seems to have gone her own way in the aftermath, ending up in the back room of an Arizona saloon, where she shot Charles Hill in the head. It was Lou who came to her rescue in 1888. It was Sam she married in 1889, just as the Blongers began to forge their empire.
Unfortunately for Kate/Kitty/Sadie Blonger/Wilson/Domedion/Redmond, Sam was on occasion an abusive, violent asshole, and Sadie divorced him after four years. Poor Sadie.