Looks like Lou will be coming soon to an NPR station near you.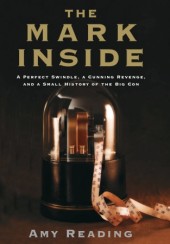 Author Amy Reading will be on Weekend Edition with Scott Simon this coming Saturday, March 24th, to talk about her new book The Mark Inside (Random House Digital, Inc.).
For what it's worth, she will also be on a Denver noontime TV news show on Wednesday (don't have the details), and signing books at Boulder Bookstore on Thursday, March 22, at 7:30. 
Reading's book focuses on Texas rancher Frank Norfleet's quest to bring every member of the Furey gang to justice after they swindled him — twice — for a total of some $45,000. That would be some half-million bucks today. In the end his obsession brought him to Denver, then the epicenter of the American con, just in time to help Philip Van Cise spring his trap and bring down Lou's machine in flames. District Attorney Van Cise convinced Norfeet to reprise his role as a sucker to help gather information on Lou's Denver operation.
We first heard from Amy back in 2009, when her research led her to our site. In time she shared a few interesting items with us, including a depostion by Lou where he tries desperately to distance himself from his Big Store manager Adolph Duff.
My copy of the book is currently enroute, but Scott has had a look, and he is very suitably impressed — as is David Mamet, I might add, who wrote "Most scholarship reads like a trip to the dentist. The Mark Inside reads like a trip to the track." Amy has really gone through the Denver archives with a fine-toothed comb, something we still hope to manage someday.
We will have more to say later; we justed wanted to give folks a heads up for this week's interview.