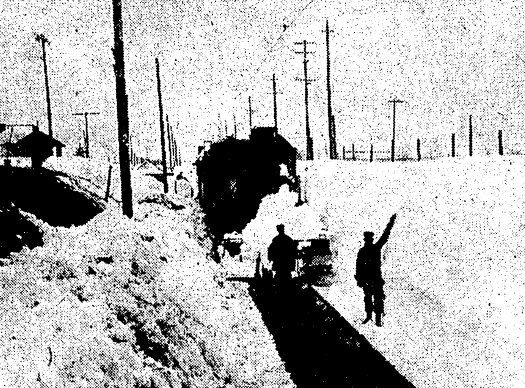 On Saturday, April 17, 1920, the Colorado foothills were hit by a spring blizzard that covered the tracks of the interurban line that ran through Lou Blonger's cherry orchard, the Bee Hive Ranch, in suburban Lakewood.  After the three-car train stalled, it was quickly covered with snow.  Luckily the passengers were evacuated to Lou's place, where they were greeted and fed by Mrs. Anna Brooks, the caretaker.  There is no mention in the news report of exactly how many people ended up at the Bee Hive, but if the report is accurate, at least two women and 20 students of the Colorado School of Mines must have spent the night.  The two women helped Mrs. Brooks feed the stranded travelers and the work crew of 75 that came out the next day to dig the train out of the shallow, quarter-mile-long cut. Actually, it might have been the Bee Hive's biggest party: roast pork for everyone, after a dressed pig was purchased from one of Lou's neighbors.
It took almost two days to free the train, but by then the mining students were long gone. On Sunday, they decided to hike the seven miles out to Golden, a decision that could easily have proven fatal.  They all made it, but many of them suffered from frostbite and exposure.  Dedicated students, indeed.
Still, that was not the biggest news in the April 20 edition of the Denver Post.  Just below the story of the blizzard was a brief account of an incident that would change the course of world history.