Now that Scott has had his say, I'd like to add my two bits.
In past years (though I missed last year) I've taken this opportunity to review the finds of the preceding twelve months, and talk a bit about the future. Back to it.
Good Old Mountain Dew
In 2011 I got my first taste of McCulloch's Mountain Dew Whiskey. John W. McCulloch's whiskey, known as "The Whiskey Without a Headache," was well known around the turn of the last century, but the distillery ceased production with the onset of Prohibition.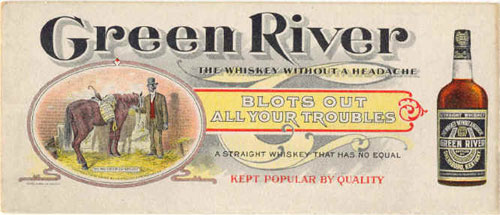 J.W. famously bought his eighth interest in the Blongers' Forest Queen mine with twenty barrels of the stuff.
Now his descendants have picked up the baton, and returned several of their famous products to the shelf. The bottle is long empty, and it's time to reorder. And no, it didn't give me a headache, though I can't say it blotted out ALL my troubles.
Shootout at the Fashion Saloon
We found that Sam was witness to a shooting in Aspen's Fashion Saloon in 1885. His testimony:
Was sitting with my back to the bar; heard a gunshot; jumped to my feet and saw deceased in the actof falling; his gun flew out of his hand to the floor; a man came in the side door and shot; he was taken out by several parties; deceased was on his hands and knees with his head toward the floor when shot.
It seems Frank Jones had been drunk and causing trouble, and when Special Officer James Fitzpatrick came to arrest him, Jones pulled a gun. He got off a shot to no effect, and Fitzgerald put him to the floor and whacked him with his pistol. As Jones struggled on the floor, hoping to get off another shot, Bernard Riley put a bullet in him and ended the fray.
San Bernardino
We have long believed Lou when he stated in a pension request that he spent the years 1883 through 1887 in the Deming, New Mexico area, staying in the hotel of gamblers Frank Thurmond and Carlotta "Lottie Deno" Thompkins. Then we found him running yet another saloon, in 1885, in San Bernardino, California.
George Creek
We also believed Joe to be in the Black Hills in the early 1870s, when he supposedly was communing with the Sioux and Cheyenne, and playing poker with Wild Bill. While he may indeed have spent time on the Plains around this time, we now know he was in California in 1875, at a place called George (or George's) Creek. While he was listed in voter rolls as a farmer, this area in the eastern Sierras sounds more suitable for prospecting.
Joe's Face
Now we finally know what Joe looked like. What a treat.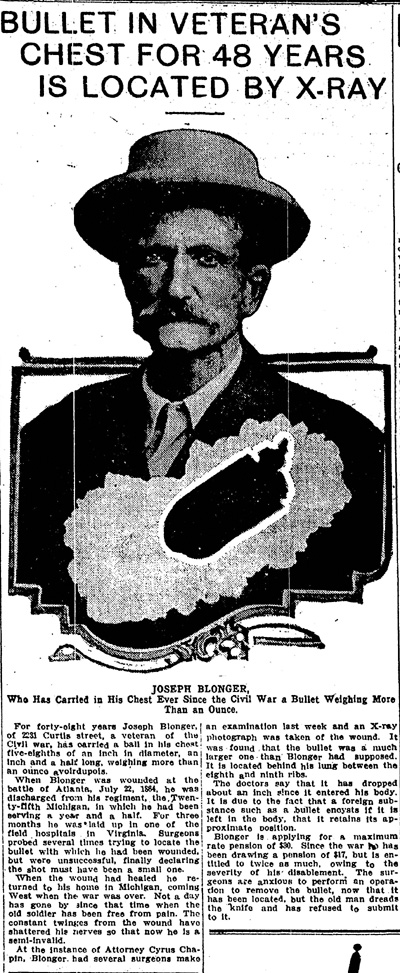 Who Was Kate "Kitty" Blonger?
An article from 1906 seems to have solved a lingering question — by suggesting that two important characters in our long narrative may in fact be one and the same. Yes, the pistol-packing prostitute from Albuquerque with the Blonger name, who shot Charles Hill in the head in 1888, may have also been Mrs. Sadie Wilson, who married Sam in 1889. Their marriage would end just four years later, with Sadie detailing a long history of savage beatings at Sam's hand.
The 1906 article, which details the scandalous behavior of a Denver city detective, paranthetically implicates one Kate Blonger — also known about town as Mrs. Hank Domedion, the man "Sadie Wilson" would marry after she divorced Sam. Domedion was another bartender, by the way, and the same article suggests that "Mrs. Demedion" was keeping a "hotel" of suspect character.
A few years later Kate/Sadie would be in the news again, when her latest husband, the aforementioned city dick, threatened to kill her and all her "friends."
The Mark Inside
Amy Reading's new book came out, and there will be a short review soon to follow, but I'll say this: Reading has given us the first new look at the trial of the Denver bunko men in many years, with a broader perspective than any previous author, including Van Cise. Not only does Reading outline the evolution of the American con, she makes a pretty good case that "humbug" is more central to the American way of life than we want to admit.
The Elite
We also found this ad for Sam and Lou's ill-fated palace of spirits, the Elite Saloon.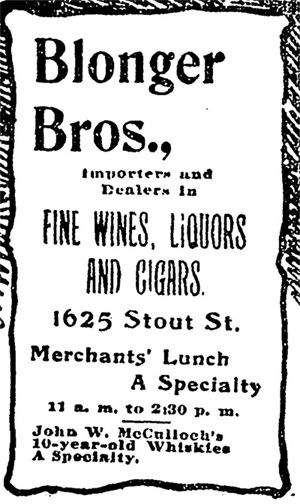 Joe & the Widow Viles
Finally, there was this article, finally revealing just how short Joe's only marriage actually was.
Couple Were Married in Room Thirteen of a Hotel.

The Pecos Valley Correspondent of the Las Vegas Optic says:

Thirteen is a sure unlucky number. Some time about the middle of April Joseph Blonger, an old miner and a Grand Army man of Santa Fe, led to the hymeneal altar in the Plaza hotel at Santa Fe, Mrs. C. A. Viles. The solemn obligation that bound them together as man and wife was performed in room 13.

Hardly two moons had passed over the fair contracting parties till Blonger concluded it was a good deal more economical and not near so hard work to hold down a miner's cabin, so he gathered up his bed, bid the fair bride of less than sixty days good by and again picked up the pick and shovel, departed for Cerrillos and gave all his right, title, and "herediments" back to the fair one, shook the dust of the Pecos from his feet anl [sic] left.

Albuquerque Daily Citizen
July 16, 1902
What Tomorrow Brings
As for the future — things are looking up. New stuff has been popping up like dandelions, and we're feeling anxious. Scott's begun the process of putting a book together, there are still places to go and and articles to uncover, and yes, there is a script in the works, for what it's worth. We started thinking about it years ago, of course, but things are proceeding now. Frankly, we know it's a long shot, but what the hell? This material aches for it, and we're happy to oblige.